Posted on
By Travis Saxton
Posted in Big Sky Montana, Bozeman, cabin, chairs, custom built, handmade, leather, leather furniture, love seat, montana, mountain modern, ottoman, rustic, sectional sofa, sofa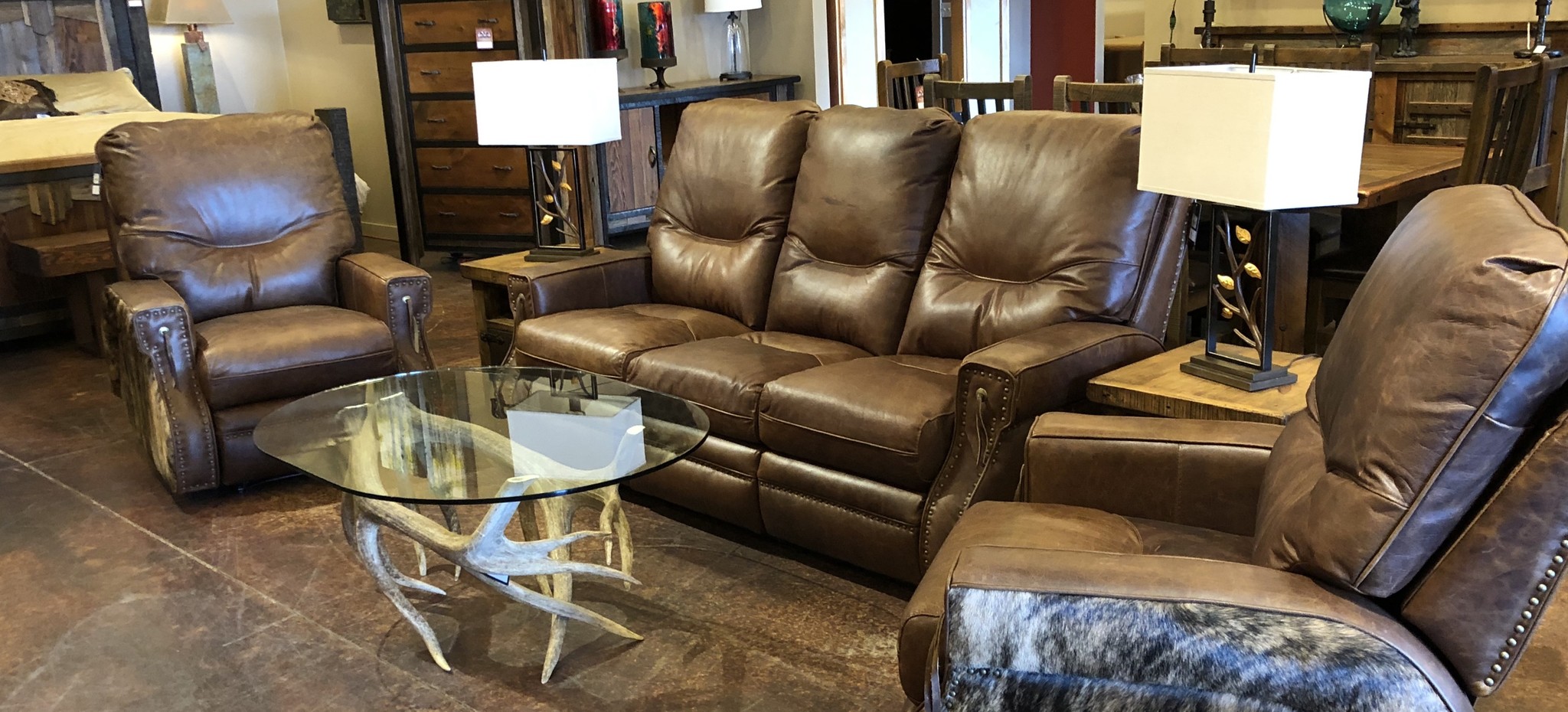 Big Bear Furniture offers a great selection of custom built leather furniture.


Shopping for leather furniture can be both exciting and confusing. You're excited to find the perfect piece and yet there are so many things to consider; style, leather quality, color, texture, size, configuration, etc.
Here are some things to think about when shopping for leather furniture.
Why Leather Furniture?
It's long lasting, durable and beautiful!
Custom made Leather Furniture can bring fashion and style to any room.
Add new energy and a new look to enhance your living room, family room, den or bedroom with new high-quality leather furniture, providing your home with lasting beauty for decades.
Leather Properties and Terminology
Knowing some of the leather terminology will help you in choosing a beautiful leather sofa or chair that fits your décor and lifestyle.
Aniline Dyed: The process of coloring leathers throughout using non-toxic aniline dyes. The dye is transparent and therefore allows all of nature's signatures to remain visible.
Aniline Plus (Semi-Aniline): Leather that has been aniline dyed and then slightly pigmented to ensure color consistency and resistance to liquids.
Full Aniline: Any leather that receives its entire color from aniline dyes only and has no topical applications. Naturally occurring characteristics on leather include (but are not limited to) insect bites and stings, fat wrinkles, healed barbed wire cuts and scrapes, and other markings that give each hide its own unique traits. Also referred to as "Naked Leather".
Nubuk Aniline: A top grain leather that has a slight nap effect produced by removal of the epidermis, or hair cell layer.
Full Grain: Any leather in which only the hair has been removed while the grain retains its original state. Natural markings are left intact and present the character and appeal of a very unique leather. With Full Grain leather you get a one-of-a-kind piece. Over time it will develop a gorgeous patina.
Top Grain: During the tanning process, a hide is split into layers and the top layer is referred to as the top grain. This is the most durable part of the leather hide due to the strength of the fibers.
Embossing: A process of altering the natural grain of the leather by using etching, engraving or electrotyped plates or rollers, creating a very uniform grain pattern. Embossing may be done to disguise defects or to create exciting designs.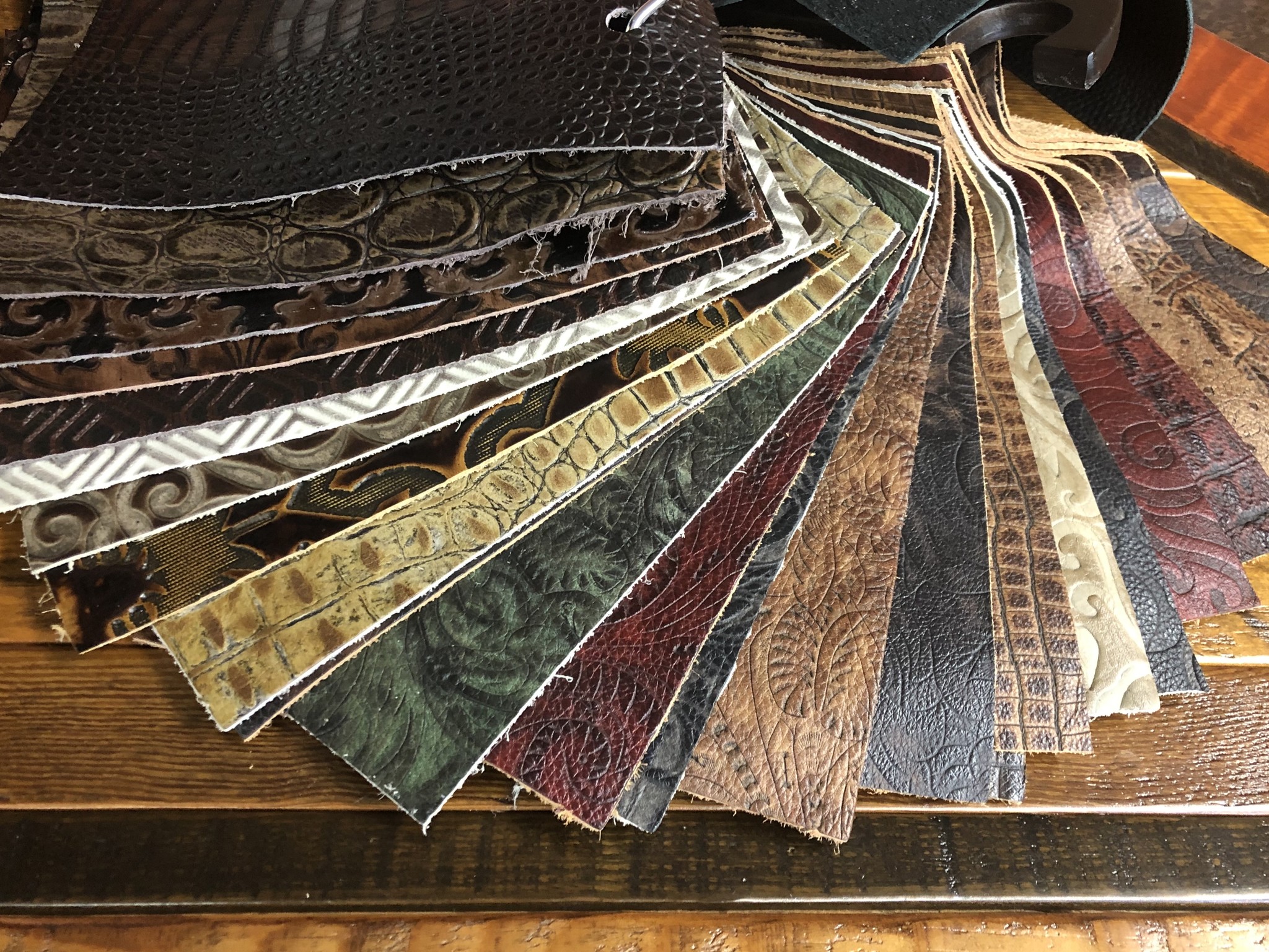 Patina: A luster that develops on pure anilines and nubuks over time and with use.
Oil/Wax Pull-up: Full grain aniline leather that derives its color from dyes. When leather is pulled, the oils or the waxes in the leather cause the color to dissipate and become lighter in the areas, which are pulled tight.           

Keep in mind that variations in shade, texture and natural markings are all characteristics and qualities of fine leather, creating a beautifully unique piece of furniture to enhance your room. Giving you a piece that you can enjoy for decades.
Visit our store to explore the wide variety of leather furniture options available to furnish your home, cabin, office, vacation rental or lodge. If you're looking for a specific style, we have it covered. From Rustic, Mountain Modern, Contemporary, Rustic Elegance, Mid Century, and Farmhouse.
We look forward to assisting you in finding the perfect pieces for your project.